Daily Market Report
29 May 2023
EURUSD
Following another volatile session, EUR/USD ended the week around Thursday's levels near 1.0730 after it failed to extend the initial bullish attempt further north of 1.0760 and rebounded from fresh multi-week lows around the 1.0700 area.

The same path followed the greenback after the USD Index (DXY) managed to reverse an initial sharp pullback to the 103.85/80 band and eventually ended Friday's session around 104.20. On a weekly basis, the index closed the third consecutive week with gains.

It is worth noting that the recovery seen in the dollar in the past few weeks came in response to increasing speculation of a 25 bps rate hike by the Federal Reserve at its June 14 meeting. This view has been underpinned by steady resilience from key US fundamentals as well as an unabated hawkish narrative from many Fed's speakers.

On this, Cleveland Fed L. Mester said that everything is on the table for the June gathering, at a time when she favours rates over 5%. She noted the importance of ensuring that the Fed does not under-tighten its policy, while recent firm US data suggest that the Fed still has work to do.

Speaking about a rate rise, CME Group's FedWatch Tool now places the probability of a quarter-point rate increase next month at nearly 67%, up from around 17% just a week ago.

In the meantime, the recovery in the greenback from daily lows followed the higher-than-expected US inflation figures gauged by the PCE in April, when prices rose 4.4% and 4.7% when it came to the Core PCE.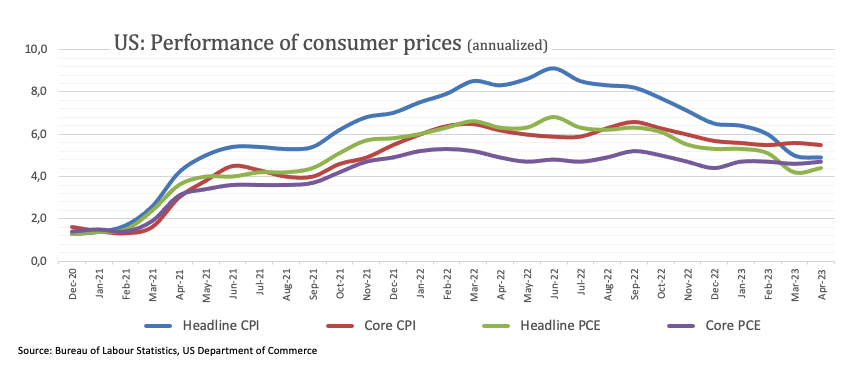 Regarding the debt ceiling issue, a ray of hope towards a final deal appears to have reignited some initial fresh buying in the risk complex, although the data-led bounce in the greenback put that optimism to rest afterwards.

Additional results from the US docket for the month of April saw Durable Goods Orders expand more than estimated 1.1% MoM, Personal Income rise 0.4% MoM, Personal Spending surprise to the upside after rising 0.8% MoM and the trade deficit widen to $96.8B. Finally, the Michigan Consumer Sentiment came in at 59.2, a tad above the preliminary reading.

Closer to home, May's Consumer Confidence in France and Italy came in at 83 (from 83) and 105.1 (from 105.5).

On May 26, the EUR/USD hit a fresh low for the month of May, reaching 1.0701. If the price falls below this level, it will encounter the March low of 1.0516 (March 15) and the lowest point of 2023 at 1.0481 (January 6). On the positive side, there are temporary barriers at the 100-day and 55-day SMAs located at 1.0814 and 1.0880 respectively, just below the psychological level of 1.1000. Once this region is surpassed, there are no significant obstacles until the pair reaches the 2023 top at 1.1095 (April 26), supported by the round level of 1.1100 and the weekly peak of 1.1184 (March 31 2022). Another round level lies ahead at 1.1200. The RSI on a day-to-day basis has eased to around the 34 area.

Resistance levels: 1.0758 1.0801 1.0831 (4H chart)

Support levels: 1.0701 1.0516 1.0481 (4H chart)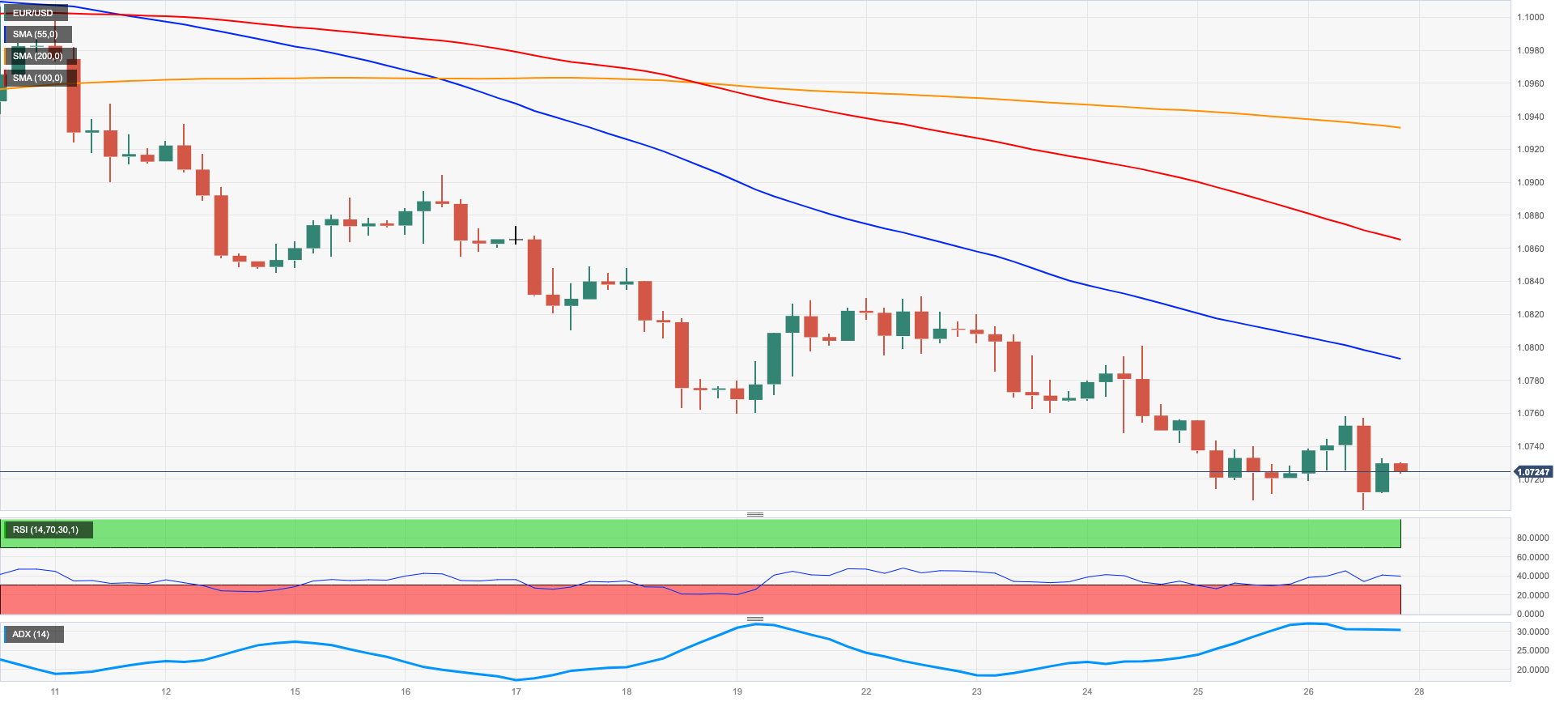 USDJPY
Another positive session saw USD/JPY surpass the key hurdle at 140.00 the figure for the first time since mid-November 2022, extending the weekly gains for the third time in a row.

The improved tone in the risk complex favoured the continuation of the selling pressure in the Japanese yen, which was further exacerbated by the mixed note in US yields, where the short end of the curve rose to fresh highs near 4.65%, levels last seen in mid-March.

In the Japanese money market, the JGB 10-year yields reversed part of the recent uptrend and retreated to the 0.41% region.

Data-wise, in Japan, the headline Tokyo CPI rose 3.2% YoY in May and 3.2% YoY when it came to the Core CPI. In addition, final March figures showed the Coincident Index improving marginally to 98.8 and the Leading Economic Index easing to 97.7.

The next resistance for USD/JPY is at the 2023 high at 140.72 (May 26). If the pair clears the latter, it could retest the weekly tops of 142.25 (Nov 21, 2022) and 148.84 (October 31 2022). In contrast, initial support emerges at the crucial 200-day SMA at 137.21 before reaching the preliminary 55- and 100-day SMAs at 134.35 and 133.49, respectively. Further south, the pair is likely to hit the weekly low of 133.01 (April 26), followed by minor support at 132.01 (April 13) and the April low of 130.62 (April 5). A deeper move should see the March low of 129.63 (March 24) and the February low of 128.08 (February 8) come to the fore, followed by the 2023 low of 127.21 (March 16). The daily RSI remained within the overbought zone near 73.

Resistance levels: 140.72 141.61 142.25 (4H chart)

Support levels: 138.22 137.42 135.64 (4H chart)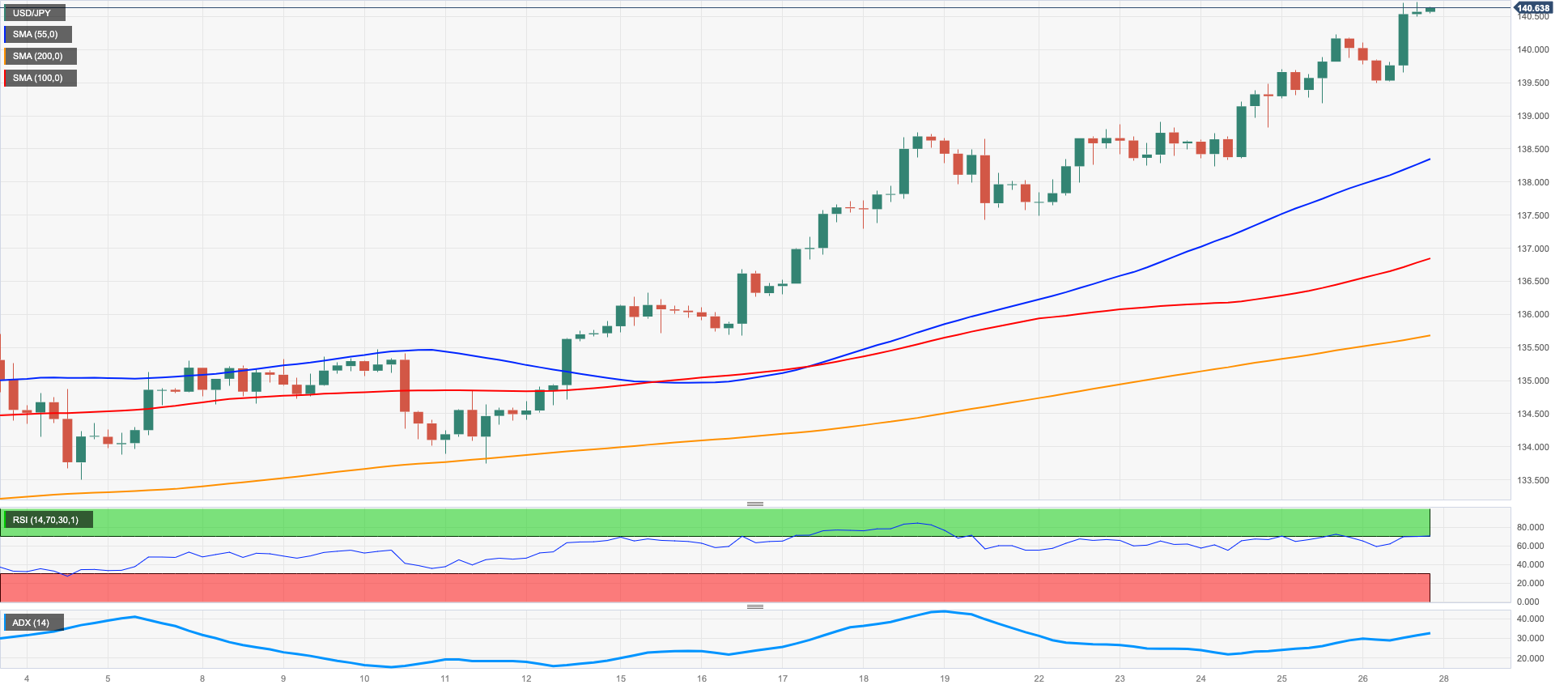 GBPUSD
GBP/USD reversed four consecutive daily losses and managed to print decent gains in the 1.2340/50 range on Friday. Despite the daily rebound, Cable maintained a negative tone for the third straight week so far.

The British pound traded mostly in a positive fashion throughout the session against the backdrop of quite a volatile session in the greenback, which regained traction soon after the firmer-than-expected US data releases.

The sterling also strengthened following auspicious prints from UK Retail Sales in April, which expanded at a monthly 0.5% and 0.8% MoM when excluding the Fuel component.

In the event that the GBP/USD breaks below its May low of 1.2308 (May 25), it may need to revisit its provisional 100-day SMA at 1.2286 before reaching the April low of 1.2274 (April 3). If a further decline occurs, the pair might then test the significant 200-day SMA at 1.1976 before reaching the 2023 bottom of 1.1802 (March 8). On the flip side, extra gains will first need to surpass the weekly high at 1.2546 (May 16), followed by the 2023 peak of 1.2679 (May 10). Buyers may subsequently set their sights on the 200-week SMA at 1.2864 and the psychological milestone of 1.3000. Additionally, the daily RSI leapt past the 40 yardstick.

Resistance levels: 1.2395 1.2469 1.2510 (4H chart)

Support levels: 1.2308 1.2274 1.2189 (4H chart)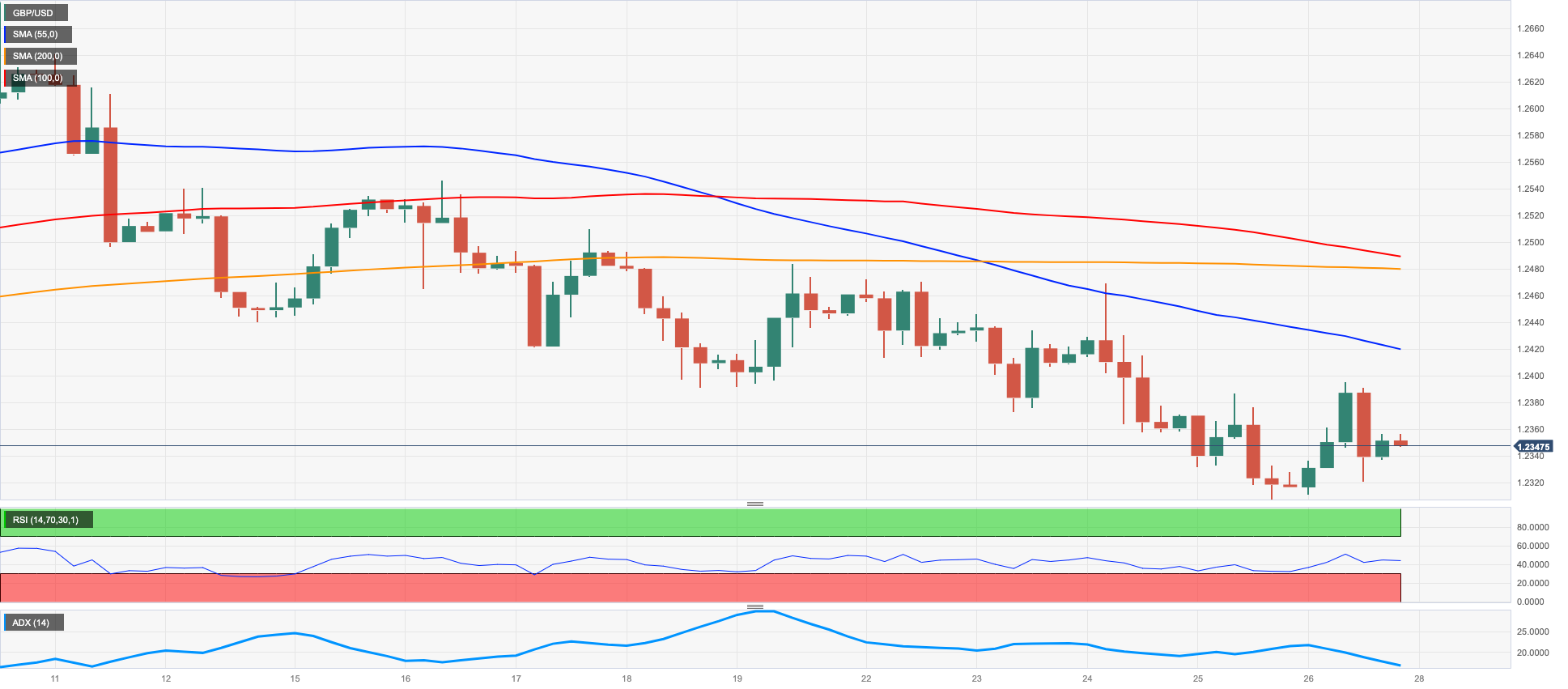 AUDUSD
In line with the rest of its risk-linked peers, the Aussie dollar left behind part of the recent bearish mood and motivated AUD/USD to close Friday's session with decent gains in the low-0.6500s following earlier 2023 lows around 0.6490.

Further support for the pair came in response to the generalized positive bias in the commodity universe, which saw marginal losses in iron ore and further recovery in copper prices.

In Oz, advanced Retail Sales are expected to come in flat in April (from a monthly expansion of 0.4% seen in the previous month).
The loss of the 2023 low at 0.6490 (May 26) could motivate AUD/USD to revisit weekly lows of 0.6386 (November 10, 2022) and 0.6272 (November 3). Having said that, there is an immediate hurdle at the key 200-day SMA at 0.6702, ahead of the May high of 0.6818 (May 10) and the crucial psychological mark of 0.7000. Above this level, the weekly top of 0.7029 (February 14) appears ahead of the 2023 peak of 0.7157 (February 2). The daily RSI rebounded past the 35 yardstick.

Resistance levels: 0.6544 0.6612 0.6675 (4H chart)

Support levels: 0.6490 0.6386 0.6272 (4H chart)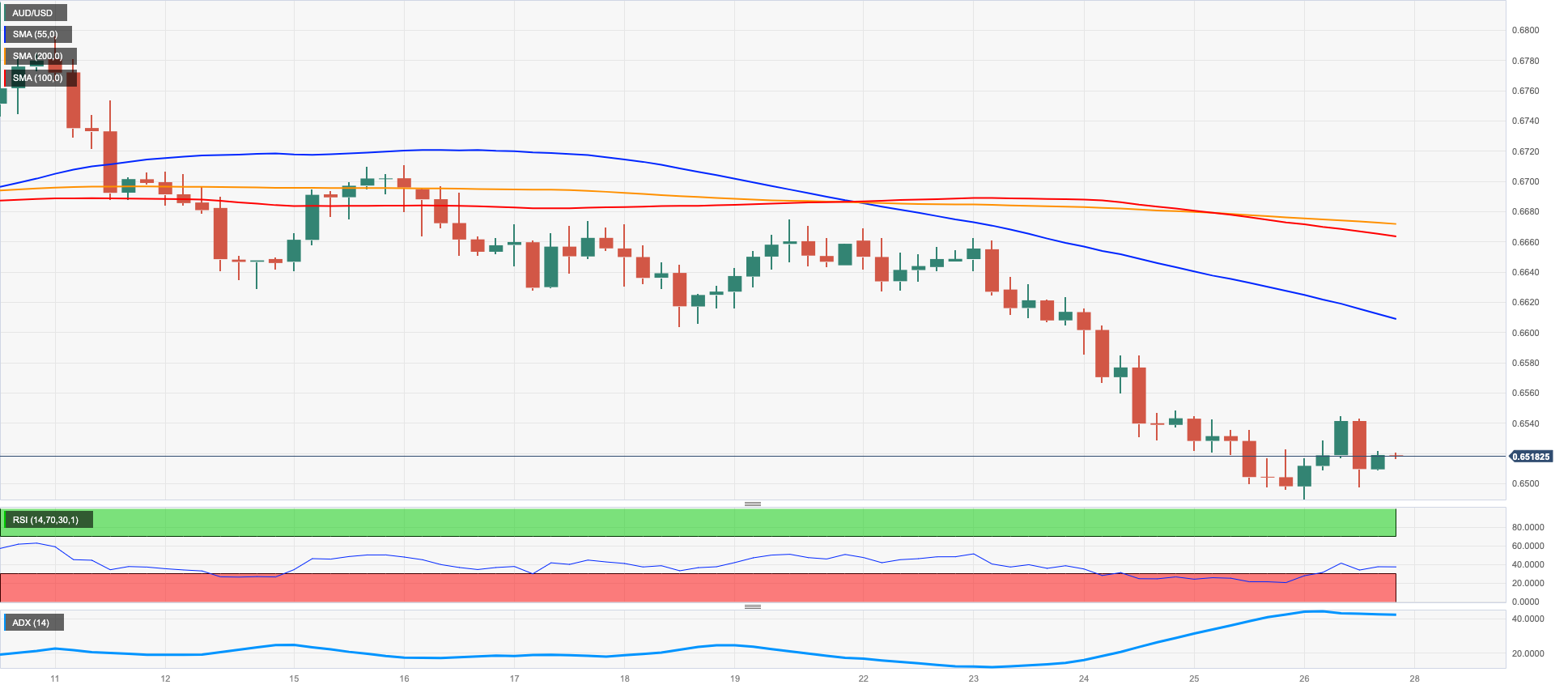 GOLD
Renewed optimism around the US debt ceiling issue and the corrective session in the greenback, all coupled with the mixed performance in US yields across the curve, lent support to the precious metal and sparked a decent rebound at the end of the week.

Indeed, the price of an ounce troy of gold regained composure after hitting fresh 9-week lows around the $1935 region.

Friday's mild rebound did not, however, prevent the yellow metal from closing the third consecutive week with losses, while potential further tightening by the Federal Reserve at the June gathering should keep bullion under scrutiny in the next sessions.

Despite Friday's bounce, gold remains under pressure for the time being. That said, a drop below the May low of $1936 (May 25), which appears to be supported by the transitory 100-day SMA at $1934, should expose a probable decline to the 200-day SMA at $1829, far before the 2021 bottom of $1804 (February 28). Meanwhile, intermittent recoveries may find temporary resistance at the 55-day SMA at $1984 before reaching the crucial $2000 level. There are no major resistance levels until the 2023 peak of $2067 (May 4), which is supported by the March 2022 high of $2070 (March 8) and the unrivaled top of $2075 (August 7, 2020).

Resistance levels: $1964 $1985 $2000 (4H chart)

Support levels: $1936 $1885 $1809 (4H chart)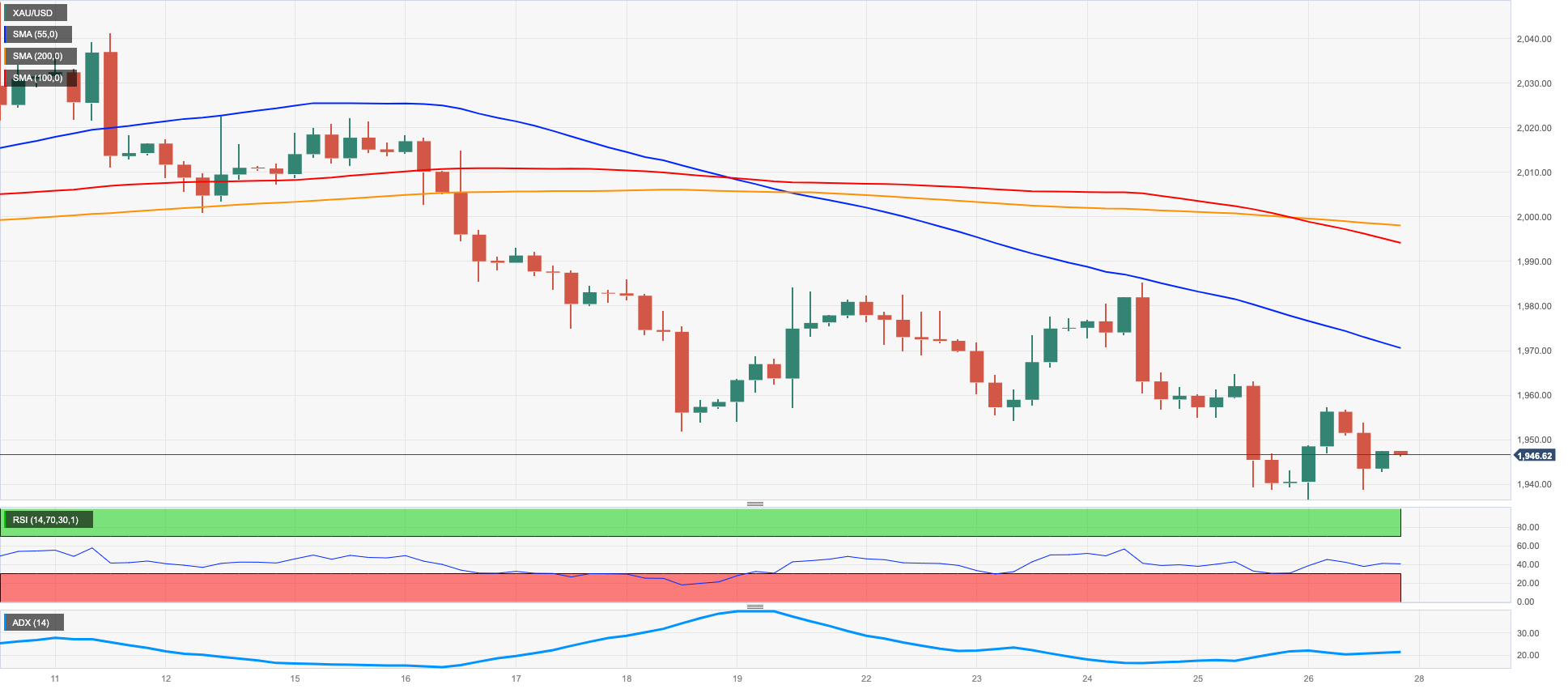 SILVER
Prices of the ounce of silver rose strongly and reclaimed the area beyond the $23.00 mark at the end of the week, flirting at the same time with the 100-day SMA in the $23.30 zone.

As a matter of fact, the loss of momentum in the greenback underpinned the daily recovery in the grey metal, which found extra help in the broad-based upbeat mood in the commodity galaxy.

Simultaneously, the Gold/Silver Ratio collapsed to the 83.40 region after four consecutive sessions with gains, poking at the same time at the key 200-day SMA.

If the May low of $22.68 (May 26) is broken, silver could test the 200-day SMA at $22.02 before reaching the significant round number of $20.00 and the 2023 low of $19.90 (March 10). On the upside, bullish traders should keep an eye on the interim resistance levels at the 100- and 55-day SMAs at $23.35 and $24.1217 respectively, before the 2023 top of $26.12 (May 5). This is followed by the April 2022 peak of $26.21 (April 18), before the weekly high of $26.94 (March 8) and the key $27.00 round level.

Resistance levels: $23.33 $23.61 $24.01 (4H chart)

Support levels: $22.66 $22.12 $21.45 (4H chart)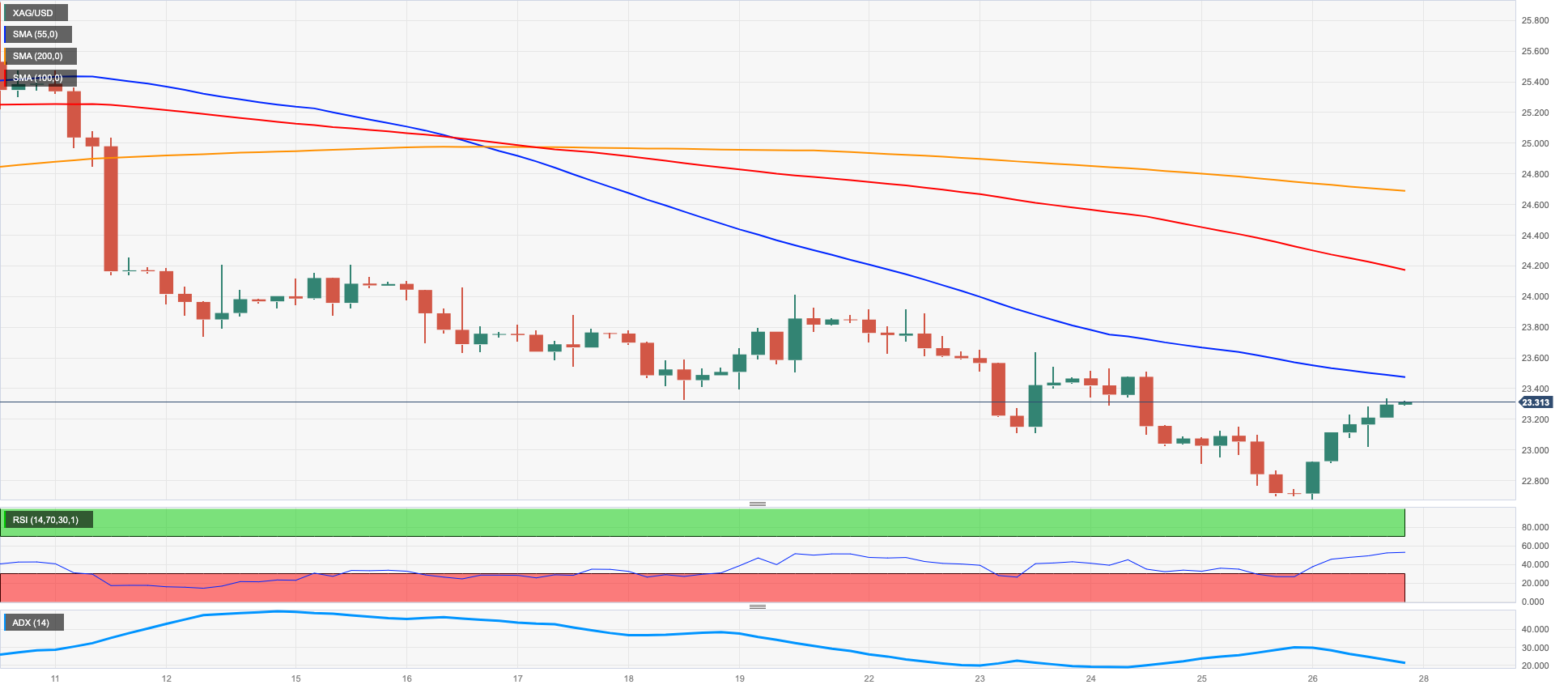 CRUDE WTI
WTI prices ended the second week with gains near the $73.00 mark per barrel on the back of fresh optimism surrounding an apparent closer deal around the US debt ceiling issue.

The knee-jerk in the greenback also collaborated with the better tone in the commodity, although reignited speculation over potential further tightening by the Fed next month and fresh uncertainty around the next OPEC+ meeting due next week kept traders' sentiment on the cautious side at the end of the week.

In the docket, the US oil rig count went down by 5 to 570 active oil rigs, according to driller Baker Hughes, in the week to May 26.

Apparently the WTI has been moving within a consolidative range this week. The breakout of this theme exposes the weekly high of $74.69 (May 24) ahead of the temporary 100-day SMA at $75.90, trailed by the key $80.00 boundary and the 200-day SMA at $79.86. Moreover, the 2023 pinnacle of $83.49 (April 12) and the November 2022 top of $93.73 (November 7) are significant. In the event that bears retake control, the 2023 low of $63.61 (May 4) emerges as a key contention area seconded by the December 2021 low of $62.46 (December 2), all preceding the basic $60.00 per barrel.

Resistance levels: $74.69 $75.12 $76.89 (4H chart)
Support levels: $70.94 $70.01 $69.38 (4H chart)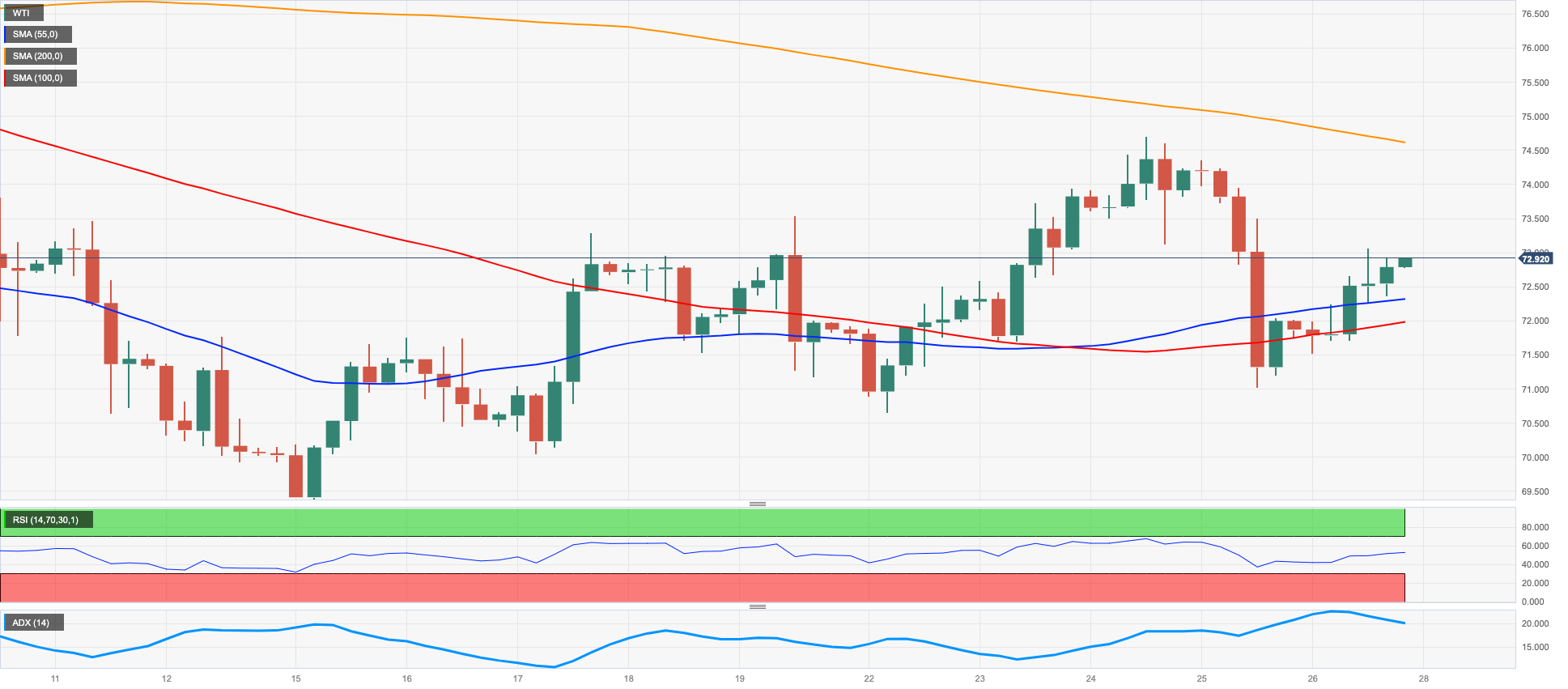 DOW JONES
The Dow Jones managed to regain some composure and advanced markedly for the first time after five consecutive daily declines on Friday, including a new monthly low near the 32500 region printed on May 25.

The broad-based optimism among market participants came at a time when US negotiators appeared to be getting closer to a deal to raise the debt ceiling in the United States and set a 2-year spending cap, setting aside some concerns over the horrendous effects that a US default could have on the global markets.

Overall, the Dow Jones rose 1.00% to 33093, the S&P500 advanced 1.30% to 4205, and the tech-benchmark Nasdaq Composite gained 2.19% to 12975.

The recovery in the Dow Jones could get more serious once the weekly high of 33652 (May 19) is cleared ahead of the May peak of 34257 (May 1), the 2023 top of 34342 (January 13), and the December 2022 peak of 34712. (December 13). If the index rises over this level, it might accelerate toward the April 2022 top of 35492. (April 21). On the downside, a drop below the May low at 32586 (May 25) could see losses accelerate to the 2023 bottom of 31429 (March 15), which would be higher than the 2022 low of 28660. (October 13). The RSI picked up pace and trespassed the 45 barrier.

Top Performers: Intel, American Express, Salesforce Inc
Worst Performers: Merck&Co, Travelers, Chevron
Resistance levels: 33162 33334 33652 (4H chart)
Support levels: 32586 31805 31429 (4H chart)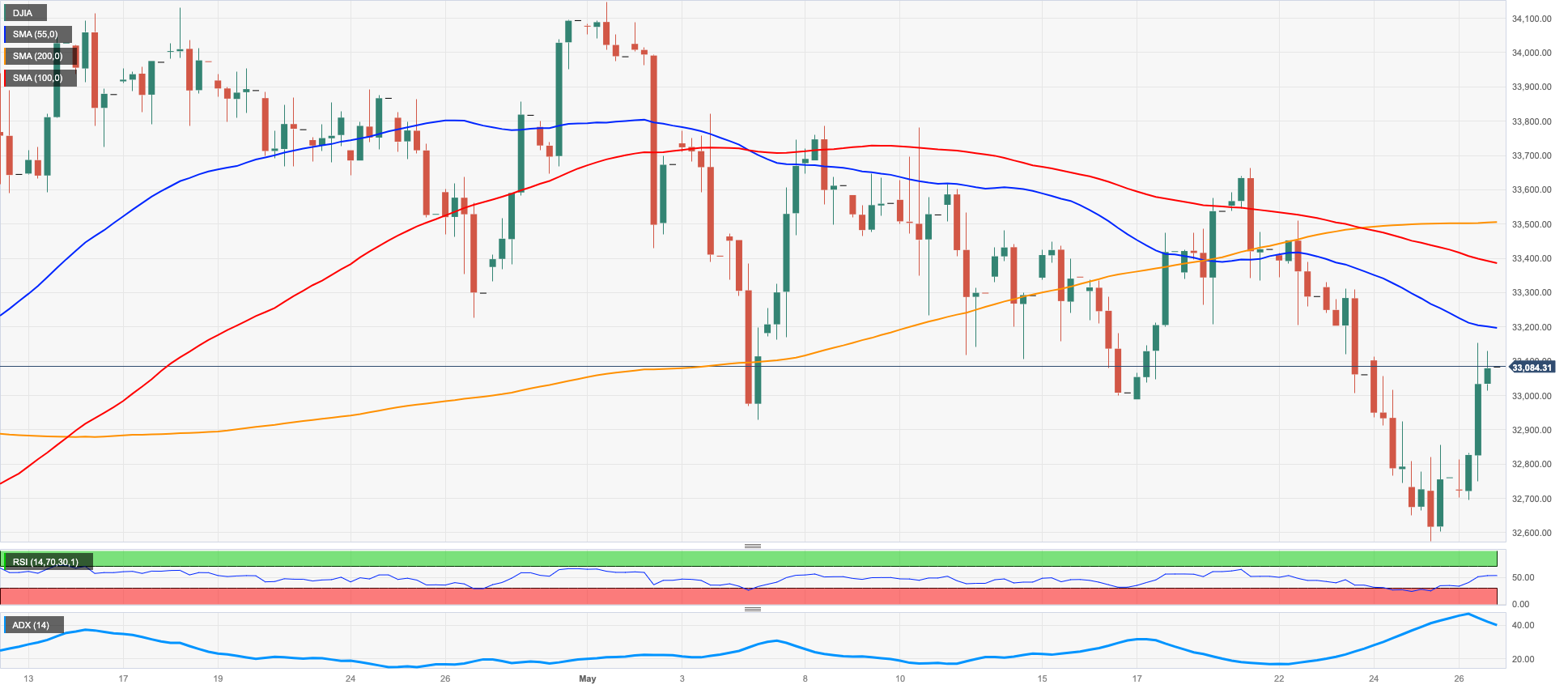 MACROECONOMIC EVENTS